Important Notice - Nov 26th, 2020
Unfortunately, we have made the difficult decision to cancel the Homegrown Kitchen Party ( Dec 18th / 19th )
The health and safety of the public, event staff, and artists continues to be our top priority.
With the current restrictions and protocols in effect around Covid 19, we feel it would be best to cancel this event.
For those who purchased tickets, you are eligible for a refund. The process on refunds will depend on where you made your original purchase.
Refunds are avialable until Feb 28th, 2021. The refund process is outlined here -->
https://ratheastlinkcommunitycentre.ca/about/covid-19-corona-virus
We'd like to take a minute to sincerely thank all of the people who were involved with this event, and look forward to a time where we can once again host amazing events and shine the spotlight on Truro/Colchester.
These amazing artists livelihoods were impacted negatively by the pandemic, so please continue to #supportlocal during these times whenever possible.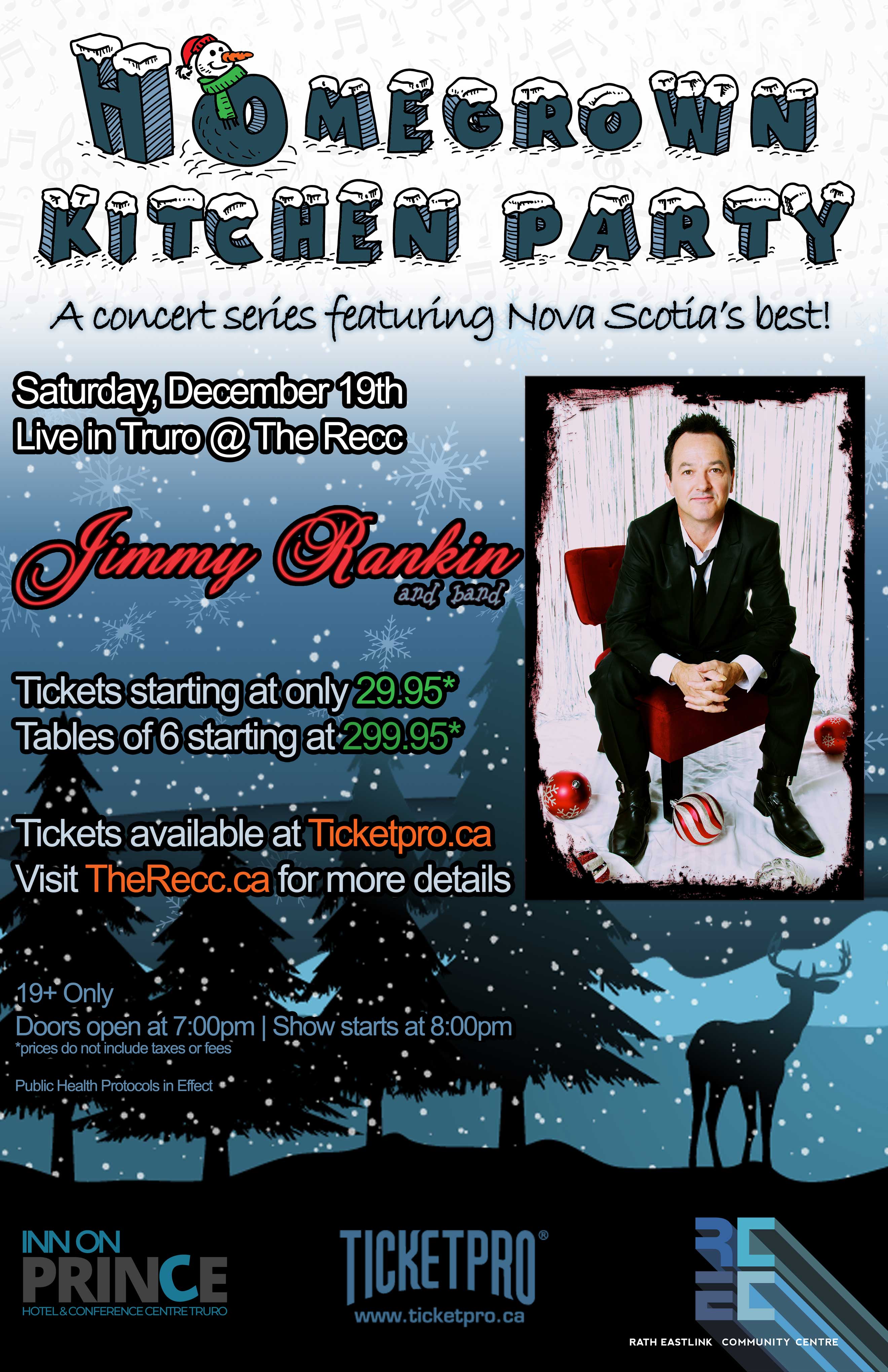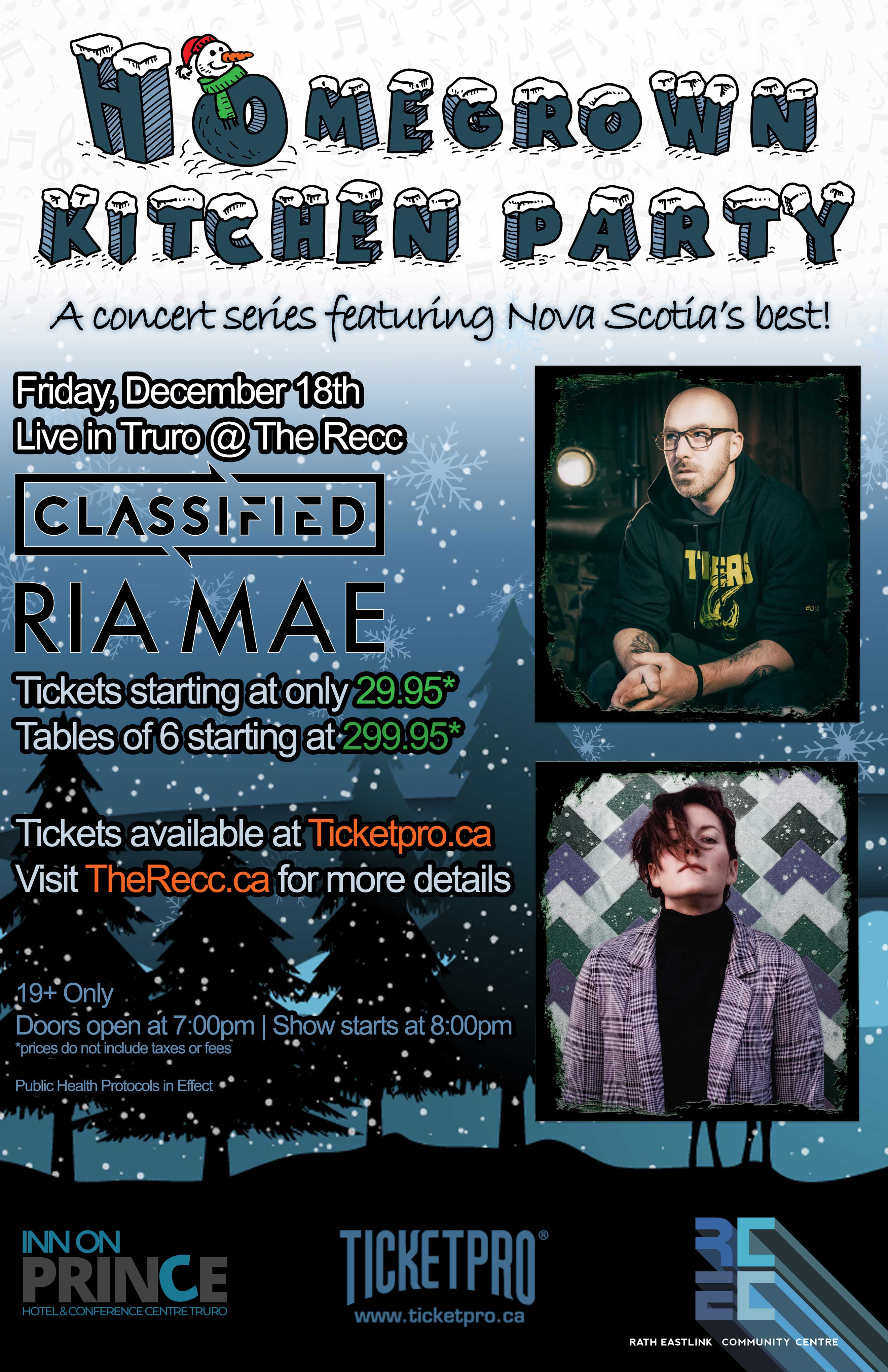 Seat Map is Here
Description:
A concert series titled "Homegrown Kitchen Party" will feature some of Nova Scotia's best musical artists starting with
a co-headline show with Classified and Ria Mae sharing the stage on Friday Dec 18th
and
Jimmy Rankin & Band headlining
on Saturday Dec 19th
.
We are absolutely thrilled to be able to present live music at the RECC for our community – And just before the holidays! Says Moore venue General Manager. Like many organizations, our focus has been to support local, and who better to have involved than these outstanding homegrown artists. We are so incredibly pleased to return live entertainment to our community and venue, especially in time for the holidays!
One of the true originals in Canadian music has moved from Nashville to Nova Scotia, and is celebrating with music only he could make. Jimmy Rankin's new
Moving East
is pure East Coast, a homecoming album featuring true stories, tall tales and bittersweet ballads, and the classic folk-rock sound that Rankin helped pioneer. One of the most famed Canadian songwriters, Jimmy Rankin wrote such classic Rankin hits as "North Country," "You Feel The Same Way Too," and the Juno winning single "Fare The Well Love," voted the #1 East Coast song of all time by CBC listeners across Canada. His own hits include "Followed Her Around," "Morning Bound Train," and "Cool Car." Jimmy's the guy who wrote "Mull River Shuffle" a Cape Breton anthem with an all-ages cult following, jamming dance floors and mosh pits at parties, weddings and raves as the last big song of the night.
Classified is a Juno award winning hit-maker who has long been making waves at home and abroad with his trademark style and sound. In 2013, Classified released his career defining self-titled album, which features the smash hit "Inner Ninja" (certified 5x platinum). Classified maintains his presence in Canadian music with his new album "Greatful", and re-affirms his legacy with the album's lead single "No Pressure" (peaking at #18 on the Canada Hot 100 radio chart). His current single, "Good News", featuring Cape Breton's Breagh Isabel, hit the airwaves this spring with the message we all needed during this unprecedented time.
Ria Mae takes listeners on a hypnotic journey from heartbreak to healing on the Juno Award-nominated EP, My Love. "My Love is about people I love," says Ria. "Past love, present love, and self-love." The EP's first single "Bend," released summer 2017, became an instant hit skyrocketing to the top of the CBC Radio 2 charts for four weeks. Shortly thereafter it catapulted up the Canadian radio charts reaching Top 5 at Hot AC, Top 10 at AC, and Top 15 CHR radio. My Love, together with its Gold-certified debut "Bend" and follow-up "Red Light", has earned over 8 million combined worldwide streams.
Safety is our top priority, our RECC team has worked very closely with public health to ensure that all protocols are aligned and that the event experience will be safe and enjoyable for all. What a great opportunity to kick off the holidays with friends, family, or coworkers, pairs, quads and tables of 6 are available!

For great accomodations, check out the Inn on Prince
Tickets go on sale Friday Nov 13
th
at noon and can be purchased online at
www.ticketpro.ca
and more information can be found by visiting the RECC website at
www.ratheastlinkcommunitycentre.ca
19+ event
Doors open at 7PM, Show Starts at 8PM
Physical Distancing Protocols in Effect
Limited Seating, Buy Now!
Media inquires:
msmith@ratheastlinkcc.ca