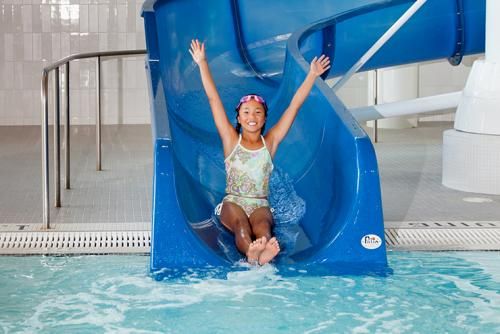 WILSONS AQUATIC CENTRE
Our state-of-the-art aquatic centre features an 8-lane competitive pool with a diving board, the Tim Hortons Leisure pool with a 2.5 story waterslide, and spacious locker rooms that include a family change room. We offer daily open swims, community swims, and most always have a dedicated lane available for lane swims. We also offer a variety of group exercise classes such as Aqua Swim and Aqua Zumba.
Drop in
and enjoy a swim or aqua group exercise class!
Swimming Lessons
Times are dedicated for RECC instructional programs for all ages, from 4 months old to adult. Sessions run for 8 weeks, with participants attending lessons 1 day/week. Participants may chose the day/time in their suitable category that works best for their schedule (must be maintained consistently for the 8 weeks). Learn about our swim lesson options and view the seasonal swim lesson schedule
here

.
Leadership Programs
At various times throughout the year we offer courses for Standard First Aid, Junior Lifeguards, Bronze Medallion and Bronze Cross, Water Safety Instructor, National Lifeguard Instructor, Lifesaving Instructor, and more. Check out our current program offerings for youth and adults.
Home of the Truro Centurions
Do you love to swim? Are you curious about competitive swimming? Then the Centurions may be for you! Since 1977 the Truro Centurions Swim Club has been dedicated to the promotion of competitive swimming excellence in the HUB of NS. Swimmers must: be able to swim a full lap of the pool using front or back crawl; be comfortable in the deep end of the pool; and have achieved a minimum of Red Cross Swim Kids Level 5. The Centurions program will introduce new athletes to four competitive strokes, dives, and turns. Emphasis is placed on proper body position, kick, recovery, and pull used by competitive swimmers. During each practice session skilled coaching staff introduce swimmers to new techniques that will further the individual swimming abilities of each athlete. Interested Swimmers are welcome to join the Centurions at any time throughout the season. Please contact
Head Coach Meghan Todd
to set up your two week free trial today!
RECC Masters Swim
Masters is an adult drop-in swim club that provides coach guidance and training for non-competitive adult swimmers. This program is for participants who are over 18 years old, and can successfully swim one full length of the pool (25m). Participants can choose a swim workout designed for: beginner, intermediate, advanced, or triathlon swimmers. Promotes fitness, health, fellowship, participation, leadership and fun. Check out our
drop-in
schedule for Master Swim times.
Group Exercise in the Pool!
Aqua Fitness
Take the stress off your joints with Aqua Fitness for a low to no impact cardio and strengthening workout that allows you to move at your own pace. Guaranteed to have a splashing good time!
Aqua Movement
is a great class for people with arthritis, knee and hip replacements, or other medical conditions. This class will help with balance, mobility, flexibility and strengthening.
Aquabilities
, similar to Aqua Movement, uses different movements to encourage core stability and balance. Both Aqua Movement and Aquabilities are held in the leisure pool.
Aqua Zumba
is self-explanatory - a water version of the traditional Zumba class! Like to Spin? Hydrorider Fitness takes place immersed up to your chest in water, while riding a stationary bike.
Deep Water Core
. Challenge your balance and your abs in deep water with our Deep Water Core class.
All these classes are included with any
RECC membership
, though membership is not required to participate. Feel free to
drop-in
to try a class.